Singing&Dancing Sunflower with Saxophone
Hurry! Only left in stock.
Crazy Sale! Limited time only!
Express Delivery: 2 to 10 business days
99% Satisfied Customer Recommendations
30 day Money Back Guarantee!
This is a electric flower toy, it can sing and dance with saxophone, special design and excellent performance will bring you endless joy. It is perfect gift for Birthday or Christmas!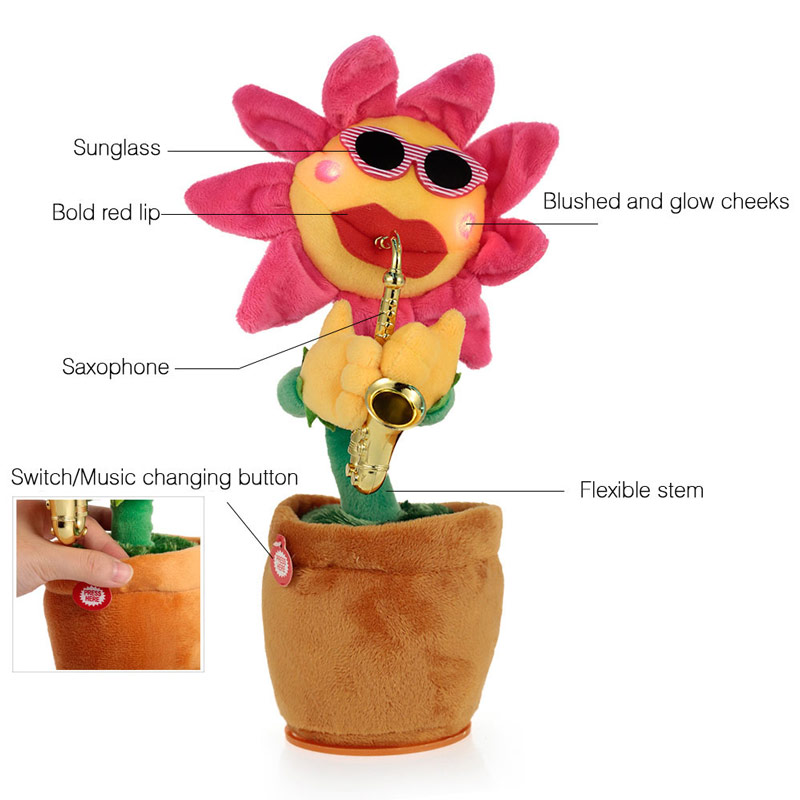 Features:
Creative Design - The plush toys can sing and dance with saxophone, the unique creative design looks great.
Funny - The sun flower mimics a smiling face, when music is playing, which cheeks are shimmer and glow, it's a wonderful performance that will bring you endless joy.
Easy to Use - Open the battery cover at the bottom of it, put the battery in it, close the battery cover, turn on the black switch nearby, placed it on a desktop or flat surface, then it starts dancing with music.
Perfect Gift - It looks magic when it is dancing and singing, it's a funny toy, the best Christmas gift for your kids, friends and family.
Kids' Development - Benefit for promoting the development of kids' sense of vision, sense of hearing and sense of touch.
Interest Stimulation - Equipped with 60 songs, can essentially soothe baby's touchy mood, it can also bring up baby's interest in music and dancing.
Material: plush, electronic components Age: 0+ Music: 60 songs
Battery: 3 * 1.5V AA batteries (not included)
Package List: 1 * Singing and Dancing Flower
---
Our word is our Guarantee!
Your satisfaction is the most important to us. If you have any problem with your purchase, we invite you to get in touch with us and we promise to refund you 100%. We're a friendly bunch, write us what's wrong and we'll get back to you as soon as possible.

Please allow 2-10 business days for delivery to the United States, and 2-15 business days for the rest of the world.